Seaflo DUORUM - Double kayak 2+2 seats with 2 paddles - Blue
Seaflo DUORUM - Double kayak 2+2 seats with 2 paddles - Blue
Seaflo DUORUM - Double kayak 2+2 seats with 2 paddles - Blue
5
1
Brand:
Seaflo
Product Code:
SF4001-DUORUM-BU SET
UPC:
sf-4001
Availability:
In Stock
485.00€
Τιμή λιανικής πώλησης με ΦΠΑ
This product has a large volume so a transportation company will handle the shipping instead of a courier. Shipping costs can be arranged upon request but surf center will be burdened part of the cost.
SEAFLO Parent-child DUORUM Kayak
---
The Duorum SEAFLO 2+2 kayak is perfect for the family and friends!
- Equipped with two plastic backrests for adults and 2 seats for children between the legs of adults it can load up to 220kg.
- The kayak is constructed of blow-molded high-density polyethylene (HDPE) which is making it durable, UV-protected, and impact resistant.
- Perform well and it is very stable due to its 84cm width and the square stern.
- With front and rear molded handles it will be much easy to carry.
The kayak 2+2 offers lots of extras like multiple footrest position, backrest, handle for kid, bungee and cup holder.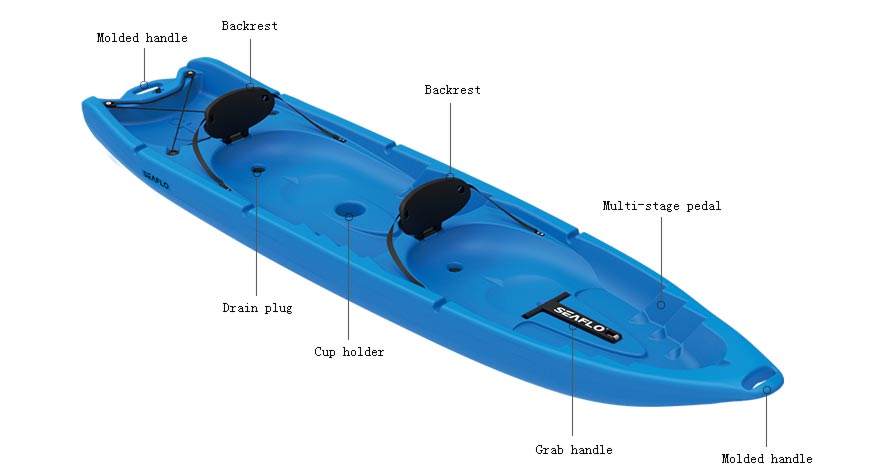 Dimensions
Lenght: 340.5 cm
Width: 84 cm
Depth: 29 cm
Weight: 29 kg
Paddlers: 2 adults + 2 child
Capacity: 220 kg
Standard Equipment:
- 2 paddles
- 2 backrest
- Bungee
- Grab handle for kid
- Molded handles
- Drain plug
- Drain holes