Seaflo LUPIN Single seat fishing kayak with wheel - Grey
Seaflo LUPIN Single seat fishing kayak with wheel - Grey
Brand:
Seaflo
Product Code:
0201-100788
Availability:
In Stock
419.00€
Τιμή λιανικής πώλησης με ΦΠΑ
LUPIN Seaflo fishing Κayak
---
The LUPIN Seaflo fishing kayak is durable and designed to accommodate you as your comfortable fishing gear.
Sit-on-top style with foldable backrest and especially the foot area design, make you feel comfortable either sitting or standing on the boat.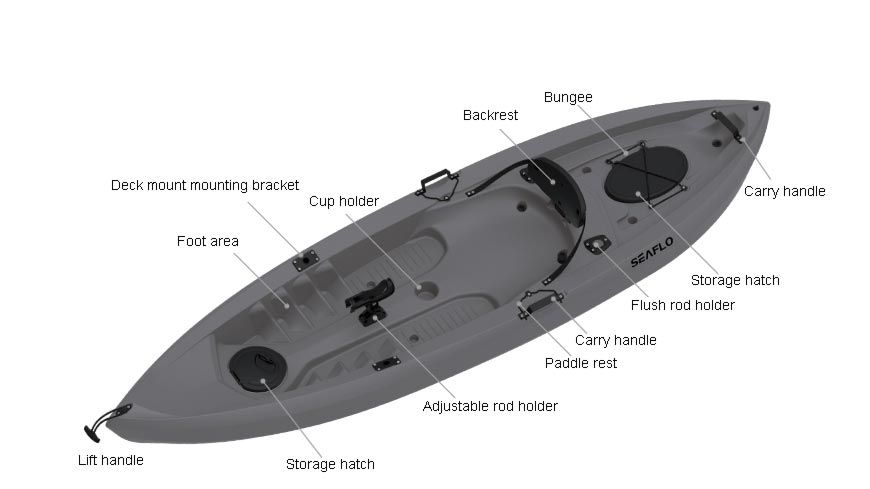 Dimensions:
- Length: 305 cm
- Width: 79 cm
- Height: 35 cm
- Weight: 21,5
- Capacity: 135 kg
- Material: High density polyethylene
Standard equipment

- Foldable backrest.
- 2 Flush rod holders
- 1 adjustable rod holder.
- Multiple rest foot area.
- Multiple storage area, with one at the front and one at the rear, providing plenty of space to keep your stuff.
- Paddle rest: 2 secure paddle parks with bungie that keep paddle safe when not in use.
- Wheel on the tail and 4 carry handles for easy land transport.
Dimensions:
- Length: 305 cm
- Width: 79 cm
- Height: 35 cm
- Weight: 21,5
- Capacity: 135 kg
- Material: High density polyethylene