SCK Conger single seat fishing kayak 300 - Blue/White
SCK Conger single seat fishing kayak 300 - Blue/White
Brand:
SCK
Product Code:
0201-29871
Availability:
In Stock
559.00€
Τιμή λιανικής πώλησης με ΦΠΑ
SCK Conger - Single seat kayak
---
Conger is probably the best kayak for anyone who wants to have it all.
A fast but stable model with a lot of storage space and great buoyancy, make it ideal for recreational fishing, in a very economical package.
In its standard equipment there are:
• Two hatch covers for carrying small items safe and dry with outer diameter 25cm, inner diameter 20cm and depth 12cm.
• A big and comfortable space at the back of the kayak with retaining elastic rope, is ideal for carrying larger items.
• The 4 internal rod holders offer options for fishing with rods, as well as the 4-holes to adapt an external rod holder or other equipment.
• A cup holder in front of the seat
• A paddle holder, offer freedom of movement for your fishing activity.
• Hole with plug for access to water, for sonar, fishfinder or other. The hole in the underside of the kayak leads to a larger opening with a protective grill.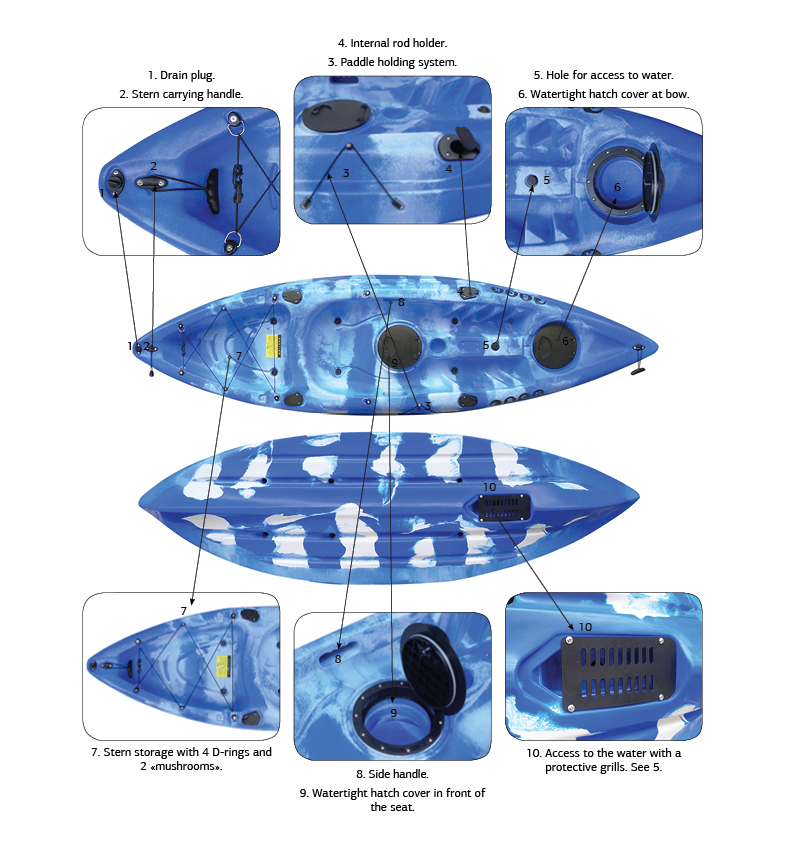 Conger is ideal for any use.
It has excellent hydrodynamics to keep directionality and good behavior when the sea is wavy.
The design of the kayak's hull as well as the design of the rails, make the kayak very difficult to turn over.
Ιncludes:

• Two hatche covers. Ø 25cm
• Handles at bow and stern
• Side handles from the kayak mold
• 1 paddle holding system on the sides of the kayak
• 4 internal rod holders
• A 4-pin socket for mounting an external rod holder or other equipment.
• Large storage space in the stern with elastic rope
• Drain valve
• Water drainage holes with removable rubber plugs
• Sea access hole with removable rubber plug
• Stainless steel clips
Dimentions:
- Length: 298 cm
- Width: 80 cm
- Height: 37 cm
- Net weight: 20 kgs
- Capacity: 150 kgs
Color choice:

Kayak
Dimentions (L, W, H)
298 * 80 * 37 cm
Max Load
150 kg