Leisure Dave Updated single kayak for fishing with rudder system Winner - White/Black
Leisure Dave Updated single kayak for fishing with rudder system Winner - White/Black
Brand:
Winner Kayak
Product Code:
WK-LeisureDave-WH/BK
Availability:
In Stock
675.00€
Τιμή λιανικής πώλησης με ΦΠΑ
This product has a large volume so a transportation company will handle the shipping instead of a courier. Shipping costs can be arranged upon request but surf center will be burdened part of the cost.
Leisure Dave Updated with rudder system
---
Leisure Dave is the new Winner Kayak fishing kayak!

It is ideal for fishing and for large comfortable tours.
It develops high speed thanks to its length, 370cm, while being flexible thanks to the rudder system fitted to its standard equipment.
Very stable and comfortable, Leisure Dave lets you stay and enjoy your time at sea.
Can adjust a comfortable aluminum seat with detachable wheels for trailer
This kayak is the most suitable option for fishing and not only!
Dimensions

Length: 3.70 meters
Width: 0.76 meters
Height: 0.26 meters
Weight: 29 kg
Maximum capacity: 158 kg
Standard Equipment
- Steering wheel with adjustable pedals and rope system to get itup or down while seating.
- Anchor system.
- Two inner rod holders in the stern behind the seat
- 4 rails for external rod holders.
- 2 external rod holders
- Three sealed storage compartments for various things, two with screw cap and one larger with oval rubber cap.
- Handles: 1 at the back, 1 at front and 2 at the sides which have elastic rope to hold the paddle
Optional Equipment
- Kayak paddle
- Aluminum backrest with detachable wheels also used as a hand trailer (2 in 1)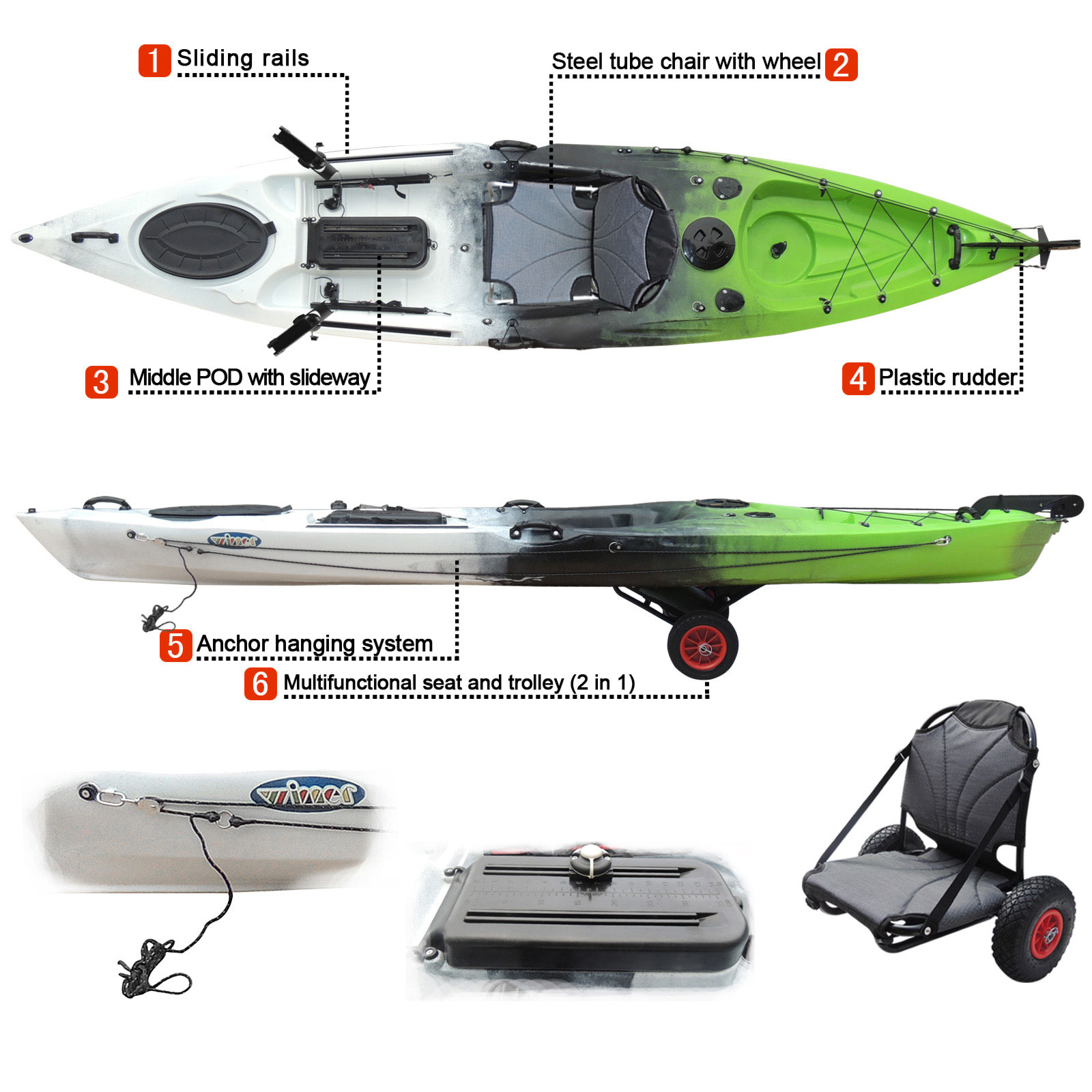 ---