Nereus V19 sea Kayak 2+1 seats SCK with 2 paddles and 2 backrest
Nereus V19 sea Kayak 2+1 seats SCK with 2 paddles and 2 backrest
Brand:
SCK
Product Code:
RYM06-NRV19 SET
UPC:
RYM06
Availability:
In Stock
529.00€
Τιμή λιανικής πώλησης με ΦΠΑ
This product has a large volume so a transportation company will handle the shipping instead of a courier. Shipping costs can be arranged upon request but surf center will be burdened part of the cost.

SCK Nereus V19
---
Nereus V19 is an unbreakable and unsinkable seat-on-top Kayak.
The Nereus V19 is the same model as the well-known Nereus with 2 minor differences which are located mainly in the middle seat and the size of the storage space at the rear, while the dimensions and features remain the same.
The big difference in this version are the footrests that are also available for the middle seat making this position more comfortable. The option of using Nereus as a single kayak is possible in any case, but with the use of foot support points, paddling becomes easier and more efficient. A seat can be adjusted to the middle position to provide better grip and back support.
Another difference in the mold is the size of the storage space at the back, which is slightly larger and the 2 watertight cabinets that have different hatches.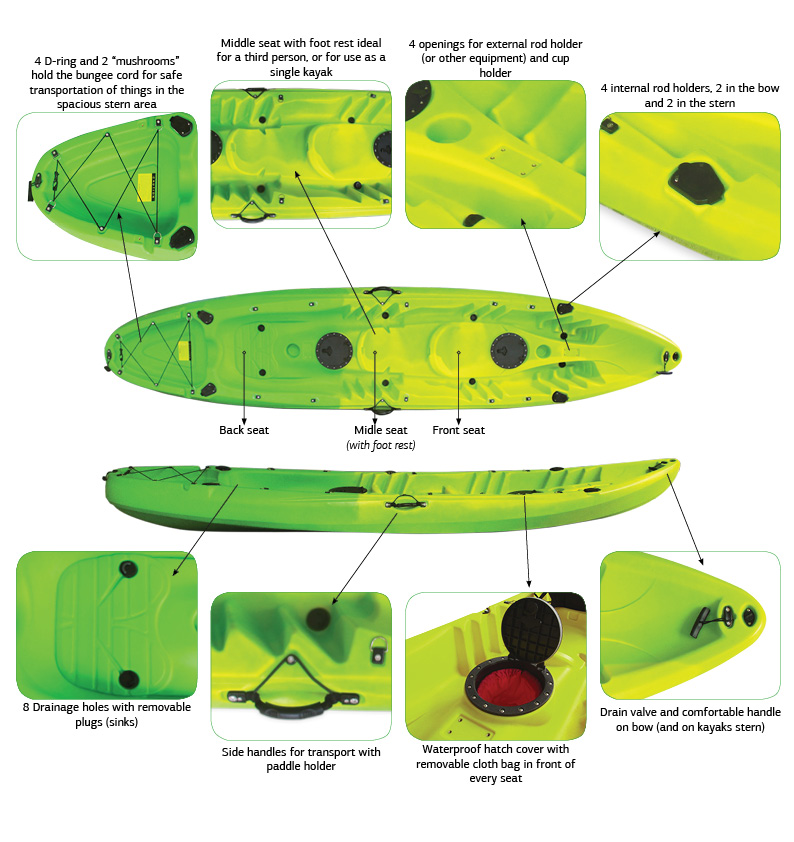 Easy to use, very stable and affortable sea kayak for everyone and also for fishing.
Designed with 2 comfortable seats plus a third for a child.
It is small in length and that makes it ideal for easy transport and can be handled by one person.
The wide hull makes any activity possible, from fishing to diving.
For family fun the Nereus is number one!
Dimensions:

Length: 3.718 mtrs
Width: 0.888 mtrs
Height: 0.451 mtrs
Weight: 32kgs
Max weight capacity: 250kgs
Hull Material: LDPE
Standard Equipment:

- 2 Kayak paddles 215cm aluminium SCK
- 2 Classic backrest
- 2 water proof hatch covers with inner bag
- Handles
- 4 insert rod holders
- 2 moulded screw inserts for external rod holders
- Elastic cord on stern
- Drain plugs with rubber stoppers
- Drain valve
- D-Rings
Color Choice:
---