SCK Single kayak Purity Plus - Blue/White
SCK Single kayak Purity Plus - Blue/White
Brand:
SCK
Product Code:
RYM01-PU-BU-WH
Availability:
In Stock
379.00€
Τιμή λιανικής πώλησης με ΦΠΑ
This product has a large volume so a transportation company will handle the shipping instead of a courier. Shipping costs can be arranged upon request but surf center will be burdened part of the cost.

SCK

Purity

Plus
---
Purity+ is a small kayak for sea, lakes and rivers.
Very easy to use, relatively small in dimensions that make it easy to transport and store. Its length of 2.70 meters makes it comfortable to maneuver, while its width of 75 cm gives it the stability it needs.
Standard equipment features two waterproof gloves for safely transporting small items, while the comfortable space on the back of the kayak with a rubber band is ideal for carrying larger items such as a waterproof bag, flippers and more.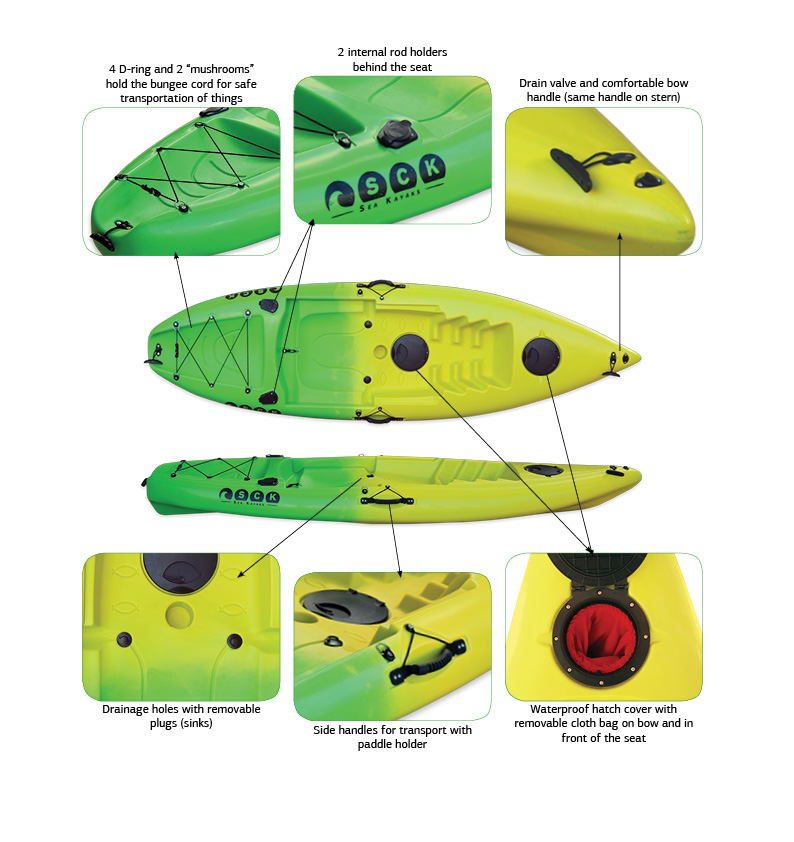 The new Purity Plus is upgraded to various details in design but retains its conveniently small dimensions. The upgrated seat design, can be fitted with an aluminum seat that is very comfortable mainly for long hours of use, as a fishing kayak or just for a better and more comfortable grip.
Then there are 2 rod holders for fishing. The handles have been upgraded to provide better grip. The sides also have a rubber paddle holder.
Finally, a cup holder has been added in front of the hatch cover, a very convenient and almost necessary addition.

- Water proof hatch cover with inner bag.
- Cup holder.
- Handles on bow and stern.
- Handles on the sides with paddle holder.
- Elastic cord.
- Drain plug.
- Rubber stoppers.

- Lenght: 2.70 mtrs
- Width: 0.75 mtrs
- Height: 0.25 mtrs
- Weight: 19 kgs
- Max weight capacity: 120 kg