Soft surf board 6ft Blue SCK
Soft surf board 6ft Blue SCK
Brand:
SCK
Product Code:
SCK-SF6-BU
Availability:
In Stock
146.00€
Τιμή λιανικής πώλησης με ΦΠΑ
This product has a large volume so a transportation company will handle the shipping instead of a courier. Shipping costs can be arranged upon request but surf center will be burdened part of the cost.
Surf Soft-board 6ft blue SCK
---
Small, wide and with plenty of liters. Ideal for kids because of their large width, which gives stability and offers plenty of comfort.
Fast and efficient board, designed with fish tail for better cornering and easier planning.
The size makes it very easy to transport as it fits comfortably in the car.
---
New look and enhanced design for 2021
All soft board surfs have an extra layer on the deck and bottom which increases the hardness of the board, buoyancy and durability.
The leash included this year has a rubber cover to protect your board and you.
Dimensions:

Length: 6 '/ 72 inch / 183 cm
Width: 21.3 inch / 54 cm
Thickness: 2.5 inch / 6.2 cm
Liter: 42L
Round-nose & fish tail
Includes:

- 3 blades 4.8 inch / 12 cm
- Simple foot leash
Technical Characteristics: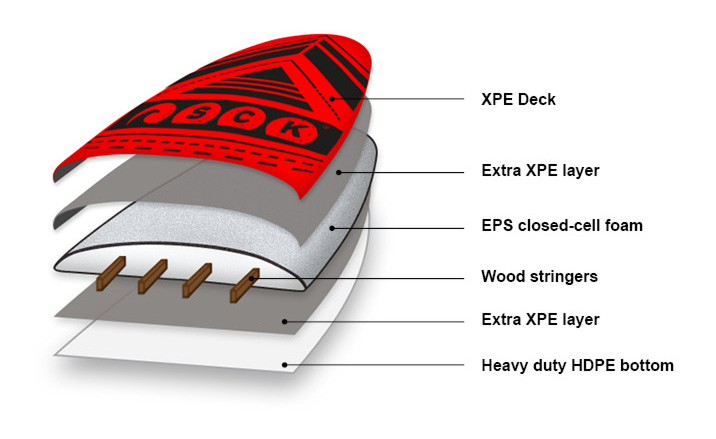 - Construction materials: EPS core, XEPE Polyethylene deck and HDPE Slickbottom
- Reinforcement with additional XPE layer around the core
- 4 wood stringers inside for more robust handling and better performance, the two longer wood stringer on middle, and 2 shorter stingers on both sides.
- Safety leash: Straight nylon
- 3 fin system for Soft Surf