Soft surf board 9ft Yellow SCK
Soft surf board 9ft Yellow SCK
Brand:
SCK
Product Code:
SCK-SF9-YL
UPC:
SCK-SF9
Availability:
In Stock
179.00€
Τιμή λιανικής πώλησης με ΦΠΑ
This product has a large volume so a transportation company will handle the shipping instead of a courier. Shipping costs can be arranged upon request but surf center will be burdened part of the cost.
Surf Soft-board 9ft Υellow SCK
---
Longboards are for everyone, regardless of age, weight or experience and are a class on their own. Larger board means greater stability and ease in first surfing tests.
These boards are designed with many liters on the bow that resembles a nose-rider board. In addition to their long length, these boards have a larger width. It is a very good first choice especially for the overweight person.
Longboard boards are probably the most fun boards as they give a bit more room and balance for balance play, even surfing with 2 people at a time.
Ideal for pounds 75-95 kg
Caution! The weight is indicative and only applies to surfing. This board is not suitable for kayaking or SUP paddles.
Dimensions:
Length: 9 '/ 108 inch / 274cm
Width: 24 inch / 61 cm
Thickness: 3.6 inch / 9.1 cm
Liter: 122L
Round-nose & squash tail
Includes:

- 3 blades 4.8 inch / 12 cm
- Simple foot leash
Technical Characteristics: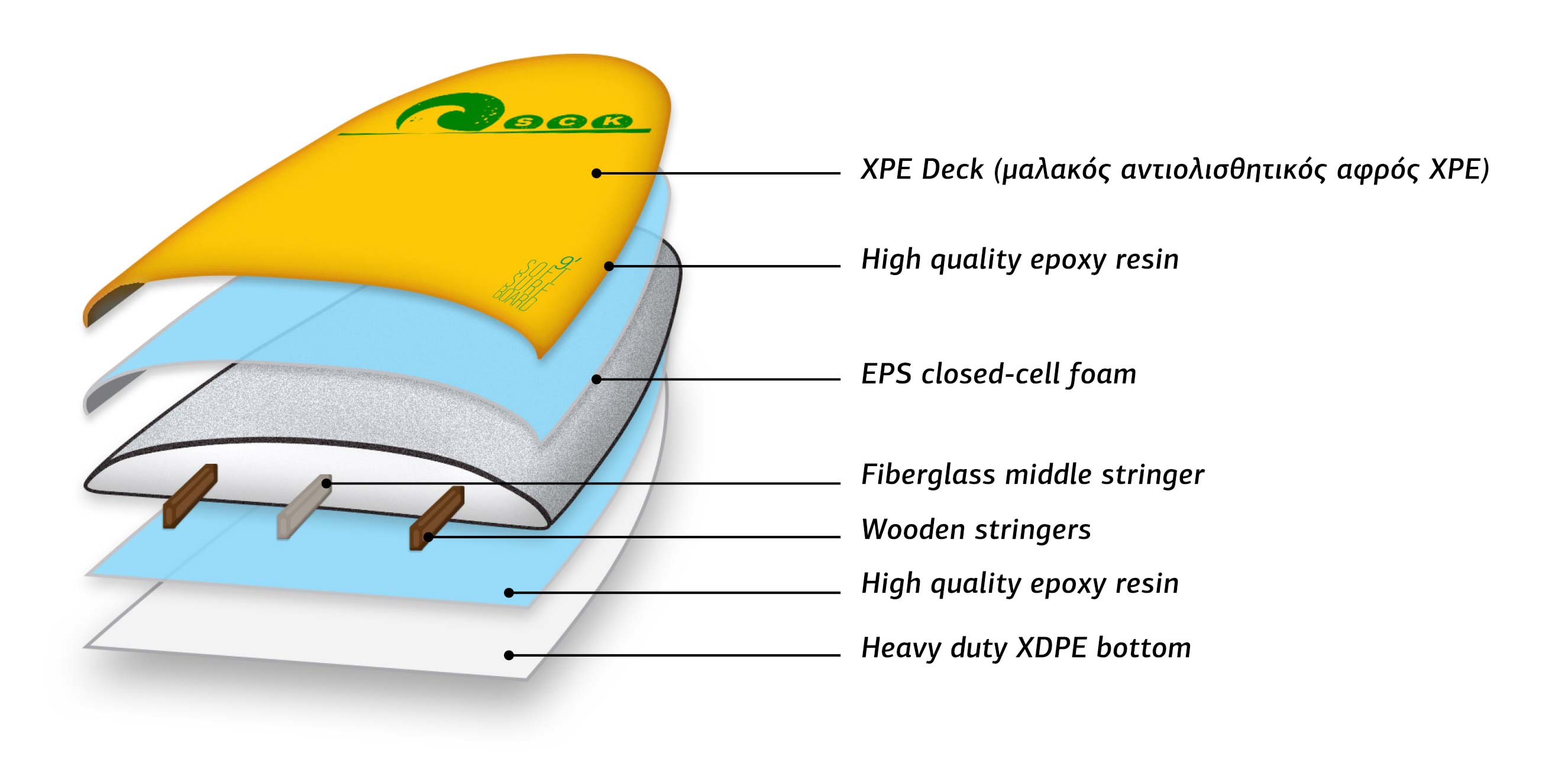 - Construction materials: EPS core, XEPE Polyethylene deck and HDPE Slickbottom
- Reinforcement with EPX resin
- One central fiberglass string and two wooden strings at the sides for more robust handling and better performance
- Safety leash: Straight nylon
- 3 fin system for Soft Surf