SCK inflatable SUP oμicron 11'6'' package
SCK inflatable SUP oμicron 11'6'' package
SCK inflatable SUP oμicron 11'6'' package
5
1
Brand:
SCK
Product Code:
SCKO116
Availability:
In Stock
429.00€
Τιμή λιανικής πώλησης με ΦΠΑ

SCK inflatable board SUP for long SUP rides
---
Oμicron 11'6''
The Oμicron 11'6'' is the best choice for those who want a big SUP that lifts a lot of weight so they can enjoy the ride 2 people together.
Its large dimensions make it very stable for beginners or big riders but it is also a good choice for those who want to catch faster speed .
It is light, easy to carry and inflates in about 12 minutes.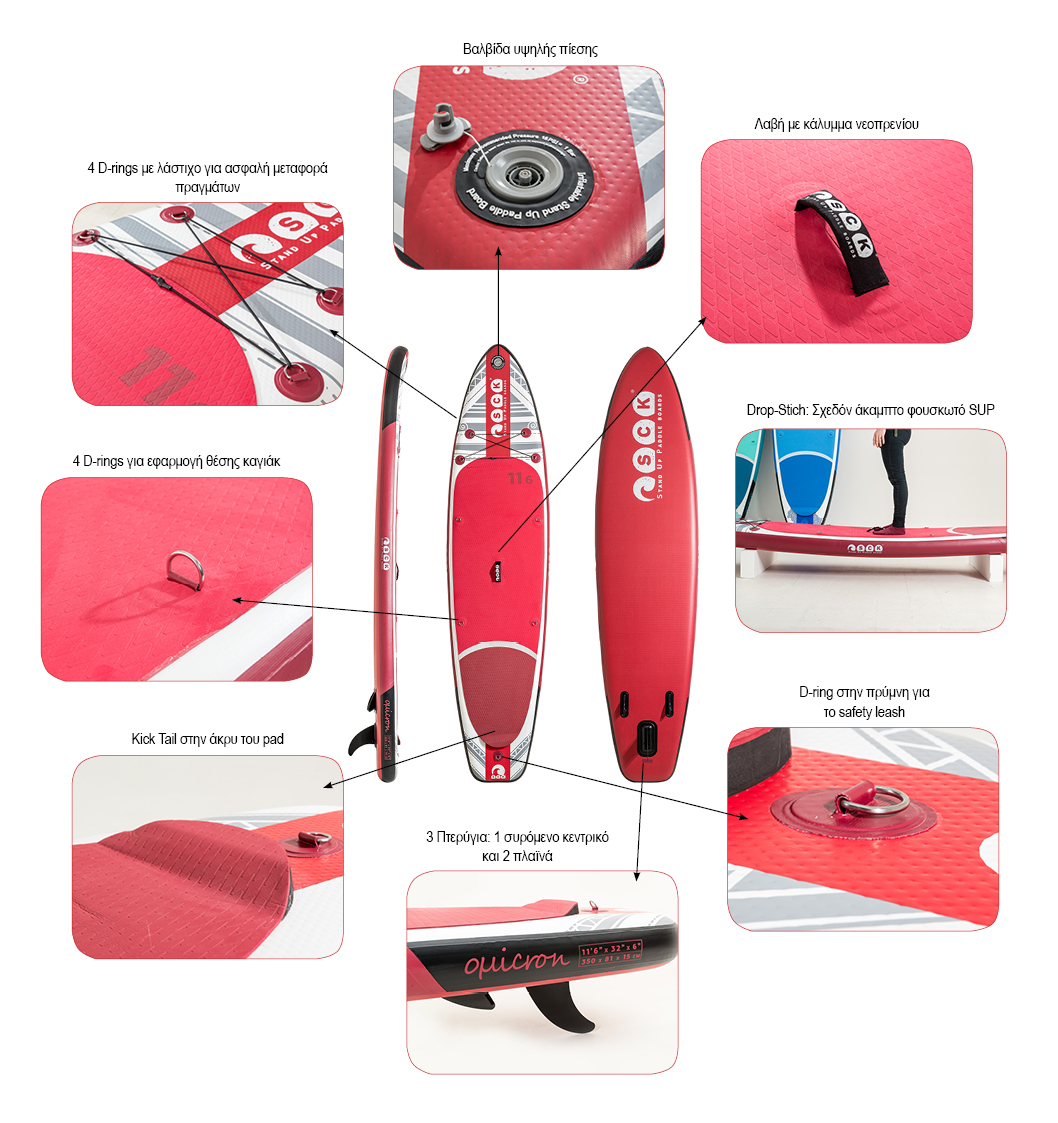 Η αγαπημένη μας 11'6 "inflatable board SUP remains in red with some optimizations!
- Stringer! An additional PVC strip on the deck and the hull of the board, offers maximum hardness without adding weight.
- This year the board has renewed original designs that make it stand out and which were based on the touring shape of the board.
- A new feature of the board is the largest antislip pad offered even for SUP yoga . Comfortable and very durable, even on the nails of your favorite pet when it accompanies you on your ...sea walks.
- The D-rings for kayak seat placement , protrude from the pad without disturbing. The kayak seat is positioned so that the weight is centered in the middle of the board. This way you'll have great comfort and the best handling of the board as a kayak.
- An important optimization that can only be seen in practice is that the valve was placed on the bow of the board . This placement serves when packing the board, which is made faster by utilizing the fines in the fold.
- The add of a Kick tail serves in surfing and assists in spot turns.
A very fast board that is suitable for beginners!
Dimensions:

- Length: 11'6'' (350cm)
- Width: 32'' (81cm)
- Thickness: 6'' (15cm)
- Volume: 310L
- Max load: 160kg
- Weight: 9.5kg
Features:

- Fins: 1 sliding center 9 inch and 2 sides
- Elastic rope on the bow, for transporting various items
- 4 D-rings protrude from the soft pad around the handle for kayak seat application.
- D-ring at the stern for leash
- Valve in the bow
- Carrying handle in the center of the board, reinforced with neoprene fabric
Includes:
- Aluminum paddle SUP adjustable 165-215cm, (split in 3 parts), floats on water
- High pressure pump with manometer
- Backpack with internal waterproofing
- Safety leash, in turquoise color
- Repair kite
Warranty: 2 years
---
The SCK series of inflatable paddle boards ensure excellent quality, great durability, ideal buoyancy, beautiful design and all this at a very advantageous price.
They are boards designed by experienced riders in order to meet the needs of all those who are looking for the ideal board to start stand up paddling.