Inflatable SUP board X-rider XL 13' zray complete package
Inflatable SUP board X-rider XL 13' zray complete package
499.00€
599.00€
Τιμή λιανικής πώλησης με ΦΠΑ

If you were looking for a BIG SUP for everybody, that is easy, beautiful, light, stable, that fits everywhere, has it all and is very economical ... you found it!
Buying an inflatable SUP of zray you will pick up a package (about 90cm x 50cm x 20cm) with complete set to get into the sea.
► The paddle board, which is folded into a large and comfortable bag back,that will also serve you to carry and store it, as it fits all the equipment inside.
► The pump to inflate it, which is dual energy which reduces the time by almost half
► An adjustable aluminum paddle 165-215cm, which naturally floats in water!
► The other accessories: the fin, the elastic bow rope, a valve adapter to have alternative ways to inflate the SUP safety leash, as well as a repair kit.
Characteristics:
Model: zray X5
Leght: 396 cm (13')
Width: 91 cm (36'')
Thickness: 15 cm (6'')
Maz load: 220 kg
Volume: 440 L
Fins: 1 removable central
Antistil EVA pad 'crocodile skin' with kick tail
4 stainless steel D-rings to adjust kayak seat
1 stainless steel D-ring to place the safety leash
elastic rop at the bow to safely transport any small cargo
Construction:
UAL / Ultimate Agile Light Technology
Specially developed for the portable boards. Extremely decrease the weight of boards to transport a single package board easily enywhere.
Hight Pressure Valve. For extreme air and water tightness.
Eva Foam Deck Pad. Soft, comfort and anti-slip texture.
Thermal Bonding Inner Rail Layer. For extra air tight seal.
Thermal Bonding Outer Rail Layer. For smooth and compact bonding of all layers.
ISD (I-drop Stitch Core). For higher compressive and tensile strength.
UAL composite Coating. Heavy duty reinforced PVC layer.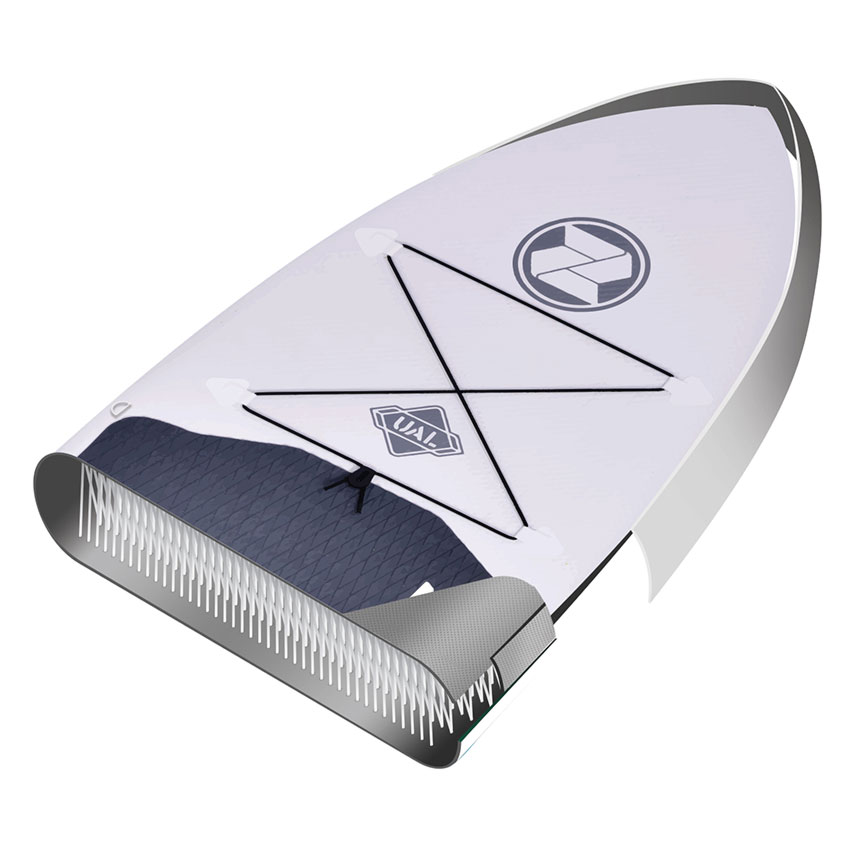 Includes:
► zray dual energy hand pump high pressure up to 25 psi
► Back pack with side pockets and X-rider series designs
► SUP paddle, adjustable 165-215 εκ. aluminum, in 3 pieces, with X-rider series designs
► Safety Leash
► Valve adaptor for car pump use
► Repair kit
Board
Max load
220 Kg
Size
396 x 91 x 15 cm
Volume
440 L