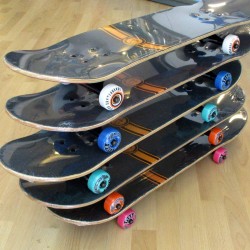 The regular Fish Skateboards are a complete set that includes a quality 7-ply Canadian Maple deck, 7" colored aluminum trucks, 50x30mm professional PU Wheels with abec11 bearings and an awesome heat transfer graphics.
The shape includes kick tails on both ends, that allow you to lift one end of the board off the ground to perform tricks or hops. A concave that helps you keep your feet on the board (grip tape helps quite a bit, too).
Whether you want to be on the streets or simply want to cruise the local skate park with style and ease, it all starts with buying a Fish skateboard.
Show:
Showing 1 to 6 of 6 (1 Pages)