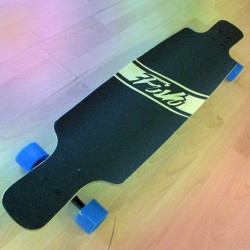 WOOD LONGBOARDS 41'' x 9.5'' are classic top mount designed longboards available in twin tip tails and pin tail.
You can use this boards for cruising and curving, for downhill and to freestyle! This models fits freeride skating very well, and, thanks to its lowered structure and great stability, it will be suitable for road trips.
The twin tip boards have symmetrical looks and feels the same regardless of which way it is facing and it is your board if you plan on doing any 180° slides (common in freeriding and freestyle).
Classic Pintail Carver is designed for smooth, open-stance skating and maximum push and speed stability. This is your surfing skateboard.

Show:
Showing 1 to 5 of 5 (1 Pages)