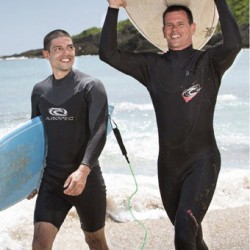 Neoprene wetsuits for surface water sports
that give freedom to movement while keeping body temperature stable. Neoprene wetsuits for surfing, windsurfing, canoeing, kayaking, sailing and swimming, available in men, women and children with variety in designs and colors.

There are wetsuits in various thicknesses that serve depending on the weather. For autumn and spring, wetsuits should be up to 3mm, while for winter up to 5mm. Then there are wetsuits with short or long ends, trousers and neoprene jerseys.
Show:
Showing 1 to 36 of 36 (1 Pages)