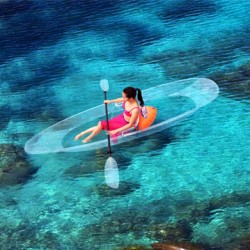 Transparent Canoes - kayaks
Made to offer a new perspective on recreational canoeing. Discover the seabed with a relax paddling or enjoy fishing, watching the fish or octopus bite the bait.
Transparent kayak single seat Serenus Clear Kayak 1 A transparent kayak for one pers..
Serenus 2 by SCK Transparent Kayak for two person The two-seater transparent kayak for two..
Show:
Showing 1 to 2 of 2 (1 Pages)