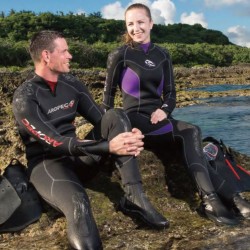 Neoprene full-body winter and spring wetsuits that keep body temperature constant while offering great ride comfort.
The full-length spring wetsuits are like the shorties but you can use them for a longer period of time when the weather cools, by reinforcing them with an isothermal neoprene shirt.
Winter wetsuits are mainly for the cold months and only for the surface water sports because it might be a thicker neoprene, but it is sewn in such a way that it offers great freedom of movement helps you to enjoy the sports in comfort and style. Available for men and women in various designs and colours.
Excellent value for money.
Show:
Showing 1 to 14 of 14 (1 Pages)