Dreamer Plus single sit-in kayak by SCK - Green/White/Black
Dreamer Plus single sit-in kayak by SCK - Green/White/Black
Brand:
SCK
Product Code:
0201-50078
UPC:
RYM10-DR-GR-
Availability:
In Stock
1,250.00€
Τιμή λιανικής πώλησης με ΦΠΑ

Dreamer Plus
Single sιt-in kayak

by SCK
---
* The new Dreamer+ has differences, in relation to the photo, in the sealed storage spaces. Call us for more information.
The new and renewed Dreamer is a sit-in kayak with longer length and larger cockpit opening that offers comfort and freedom of movement.
It is an efficient kayak for the open sea and is aimed at those who are looking for a quick and safe kayak for their tours or gymnastics.
Ideal for those who want to explore and travel along the coast.
Its storage spaces in the bow and stern offer several liters for transporting things and at the same time make the kayak unsinkable when secured.
Standard equipment includes the steering wheel for ideal navigation and more immediate response to turns.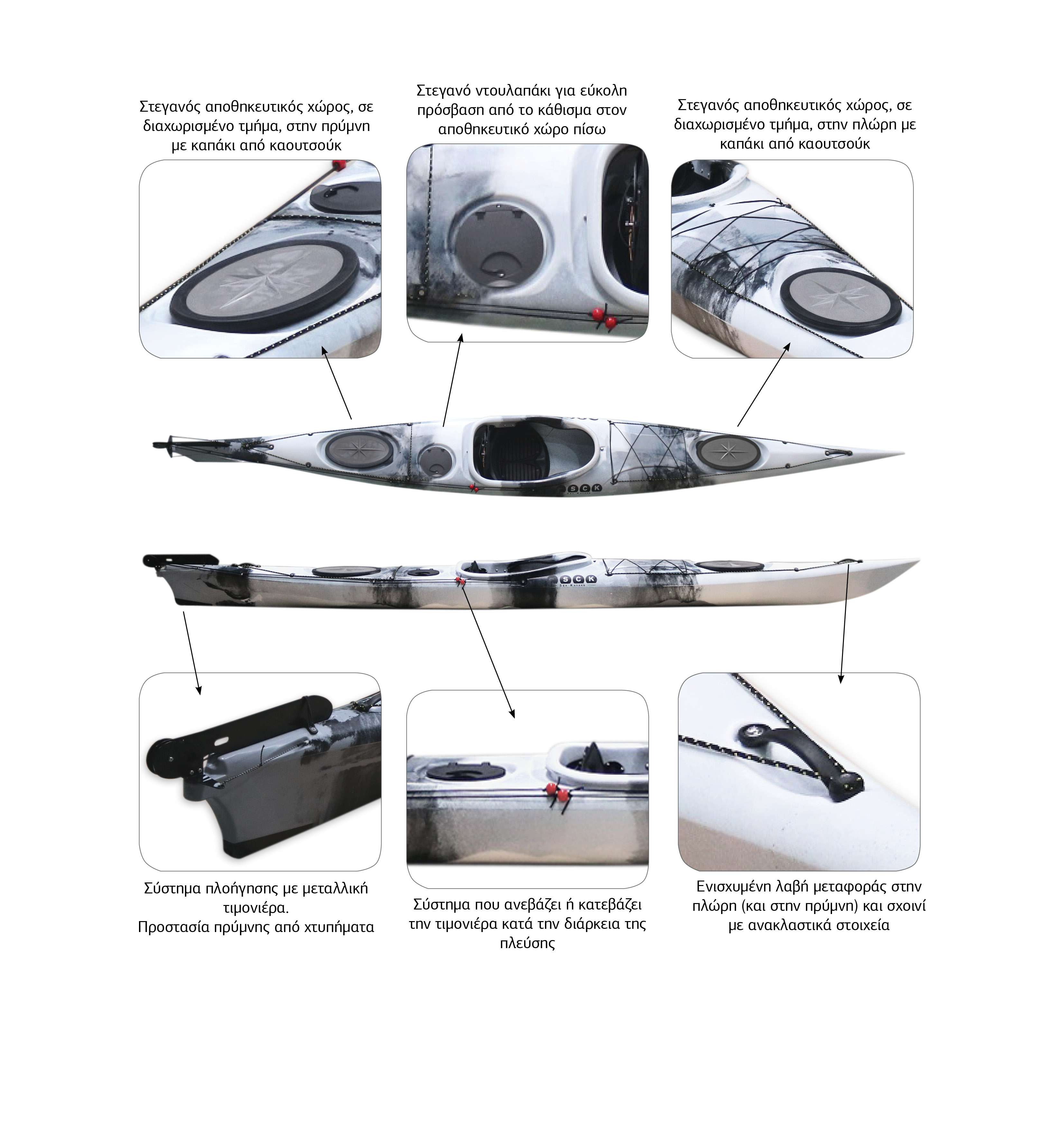 The appropriate length of ropes for the use of the steering wheel is adjusted according to the height of the paddler.
The steering wheel is operated by foot.
Dreamer Plus is an all-weather kayak and will become your best companion on sea getaways.
Standard equipment

- 2 Waterproof storage with rubber cap
- 2 Round storage hatches, in front and behind the cockpit, close to the paddler for direct access
- Handles at bow and stern
- Rudder system, aluminium
- Soft seat with adjustable backrest
- Elastic rope on stern
- Clamps, 13
Dimensions

Length: 4,80 m
Width: 0,57 m
Hight: 0,26 m
Weight: 26 kg
Max Load: 150 kg
Cockpit outer dimentions: 88 x 52 cm
Color choice