SCK Nereus sea Kayak 2+1 seats - White/Black
SCK Nereus sea Kayak 2+1 seats - White/Black
Brand:
SCK
Product Code:
RYM06-NR-WT/BK
UPC:
RYM06-NR
Availability:
In Stock
565.00€
Τιμή λιανικής πώλησης με ΦΠΑ

SCK Nereus
---
Nereus is an unbreakable and unsinkable seat-on-top Kayak
It is a very carefully designed mold that ranks it among the best recreational two-seater kayaks in the world.
Easy to use, light and extremely stable, suitable for the whole family, for groups, for rent, for beginners but also for fishing.
Especially for fishing, the SCK Nereus is equipped with 4 internal rod holders and 2 positions with 4 holes to adapt an external rod holder or other equipment. So, each paddler can have up to 3 reeds for fishing.
Although the Nereus is a two-seater kayak, it has a length of no more than 4 meters. This makes it friendly to use by one person, using the middle position for better handling of the kayak.
Its relatively short length for a two-seater kayak makes it very easy to transport, store and handle at sea by either two or one person.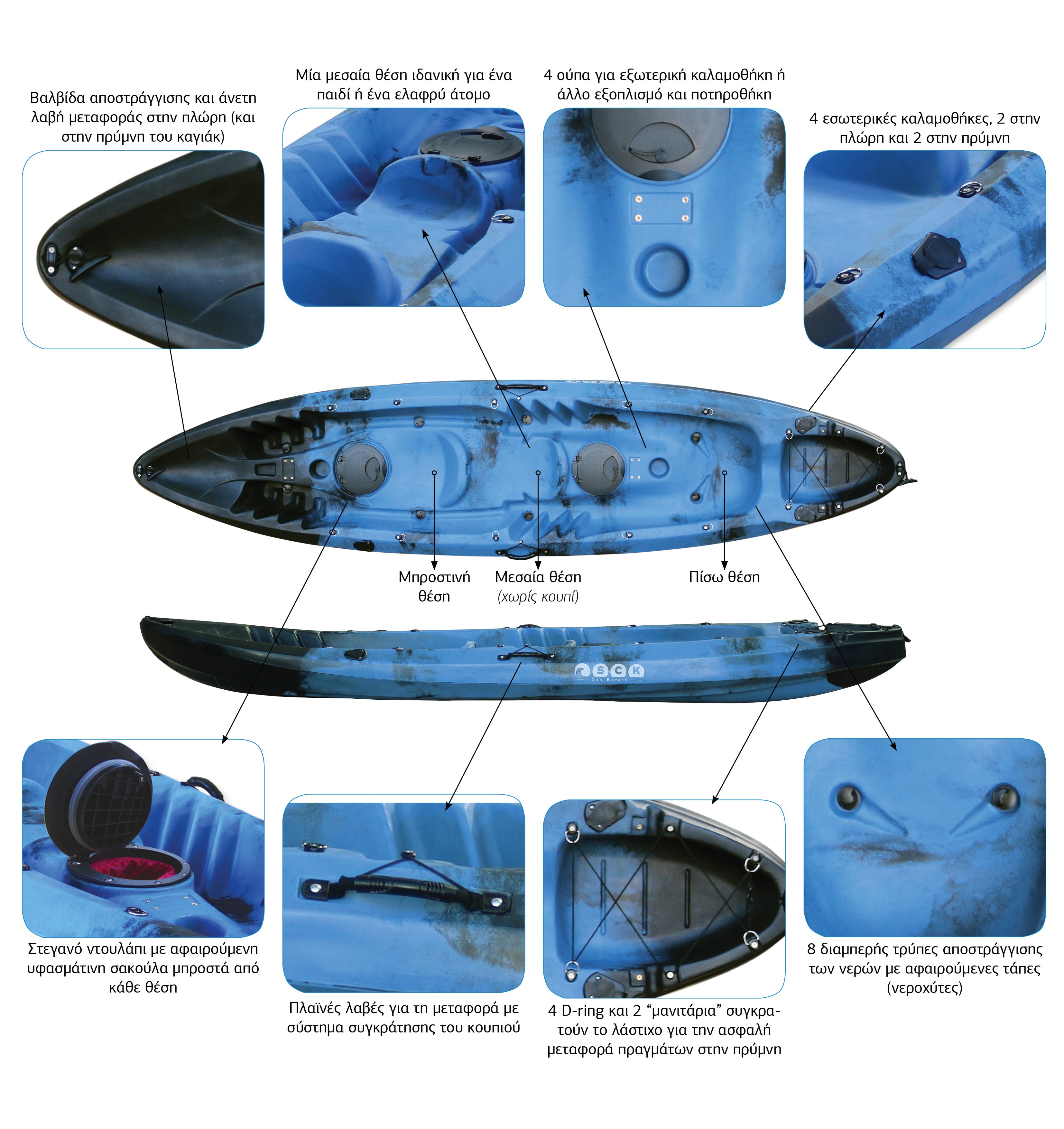 This particular kayak is designed for 2 adults and one child, but it can comfortably carry 250 kg, which immediately makes it a three-seater kayak.
Designed with a very stable hull, it provides good and fast cruising. Nereus is almost impossible to turn over even in a sea of waves.
The basic equipment of the kayak includes several details that offer convenience and comfort. In front of each seat there is a large waterproof hatch with a detachable bag inside. At the back of the kayak there is a space with retaining rubber rope to carry various things such as a waterproof bag. Two carrying handles on the bow and stern and two more side handles with a paddle retaining system. A total of 14 stainless steel D-rings around the kayak are used to secure the seats and other things.
For family fun the Nereus is number one!
Dimensions:

Length: 3.72 mtrs
Width: 0.89 mtrs
Height: 0.45 mtrs
Weight: 32 kgs
Max weight capacity: 250kgs
Hull Material: LDPE
Standard Equipment:

- 2 water proof hatch covers with inner bag
- Handles
- 4 insert rod holders
- 2 moulded screw inserts for external rod holders
- Elastic cord on stern
- Drain plugs with rubber stoppers
- Drain valve
- D-Rings
Color Choice:
---