SCK SUP board soft-top Pure Life 11′
SCK SUP board soft-top Pure Life 11′
Brand:
SCK
Product Code:
0103-1158811
UPC:
STS-11YL/G
Availability:
In Stock
819.00€
Τιμή λιανικής πώλησης με ΦΠΑ
Soft Top boards are the perfect hard all-round Stand Up Paddle boards.
Their classic shape provides effortless sliding in flat water conditions and easy surfing in small to medium-sized waves!
---
The soft-top Pure Life 11′ is a SUP board completely coverd with soft and non-slip EVA material which provides great comfort but also protection to the user and the board from shocks.
Made with the soft but robust Soft Top technology.
A Soft-top SUP board with additional reinforcement in the hull and deck is the ideal choice for beginners and experienced riders who want a hard board by choosing the most economical solution of Soft-Top boards. Also an ideal choice for schools and rentals as they have great resistance to bumps, protecting the board and the rider!
With size 335cm long, our 11' soft-top boards have a classic all-around surfing board design. They are extremely stable with a very pleasant slide on the water, covering the widest range of rider skills.
These boards offer pure fun, whether this is your first time on a board or you are an experienced paddler.
Length: 11' (335cm)
Width: 32'' (82cm)
Tichness: 5'' (13cm)
Liter: 230L
Weight: 15kg
Specifications:
- 2 Wood Stringer
- Material: EPS foam
- EVA deck with two Fiberglass layers reinforcement
- HDPE bottom reinforced with one fiberglass layer
- Production: Vacuum bagging
- Rubber on the bow, for transporting various items
- Automatic decompression valve
- Comfortable inner carry handle
- Leash plug in stern
Included:
- 1 central fin US box
- Rubber on the bow, for transporting various items
Construction: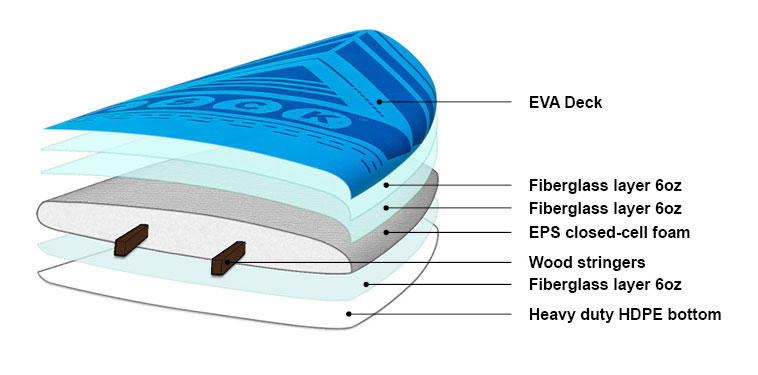 With a board thickness of 5 '' we have achieved excellent buoyancy and stability for beginners while at the same time we have ideal hardness offering better speed and uninterrupted use in many weather conditions.
A very stable hard board SUP that you will enjoy in your daily life with your friends, with your family, either alone for some exercise. This is the board you were looking for!